Sonar Fleet 23
The Nyack Boat Club has an active and growing fleet of Bruce Kirby-designed Sonars. Sonars are 23-foot-long high-performance keelboats designed with simple, efficient rigs to provide sparkling performance in reasonable comfort. These one-design sailboats can ghost along in light air, yet their deep keel and rudder make it equally comfortable when the wind pipes up and when it does, you'll be sitting on the "rail," very much aware there is no better boat to sail than on a Sonar.
The fleet's primary activity is Sunday afternoon club races run by our volunteer race committee and race patrollers. We race off our front porch, literally, 15 minutes from porch to starting line on the beautiful and historic Hudson River. Being a strict one-design class the races are very competitive, with every boat capable of "winning on any given Sunday," as they say. Our Sonar fleet (national fleet # 23) had a very successful, interesting, and very competitive 2022 season. So closely competitive that the top three boats finished the season within 3 points of each other. Were all looking ahead to 2023 with enthusiasm. Not only are we looking forward to having another great year with most every boat on the line we are, excitedly, going to learn and practice the growing sailing sport of team racing.
The races themselves can be very exciting, and it's certainly a big part of the fleet's appeal. But it's just as much the camaraderie of the fleet members that brings us back week after week. Each afternoon before racing we get together on the patio for coffee and donuts and discuss the highlights of our past week. We then launch and haul our boats as a group effort since they are dry-sailed. After the races have concluded and the boats are hauled, we go back to the patio, open the fleet cooler and unload drinks and snacks, and finish the day by discussing boat speed, mark roundings, and our next Sunday outing.
But it doesn't end there: Over the course of the year, we host several social functions ranging from BBQ's and lobster boils to axe-throwing outings to trips to museums. During the winter months, some members meet up to ski together in New York and Vermont. Anything fun is on the table with this fleet.
Perhaps you'd like to sail with us? If so, please contact Holly Cullen at hollydcullen@gmail.com, or leave us your contact information by clicking 'CONTACTS', select 'Fleet Information or Crewing' as the topic, and fill out the form requesting a Sonar Fleet member reach out to you. You can learn more about Sonar itself at the Sonar Fleet Class Association website.
Click for our fleet directory. (accessible only to club members)
A BIG Thanks to those who attended our 2023 season Launch Party!

Another Tight Downwind Leg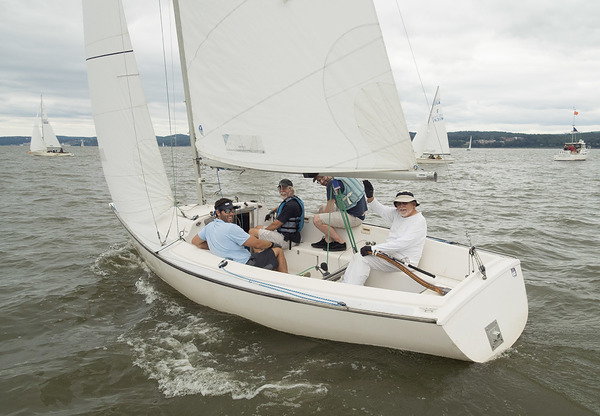 All smiles on Sonar 461

Team Tabasco putting the heat to the fleet

Just sailing out to the course is fun!

Last updated 9:01am on 26 October 2023